Page 2 - F&A Brochure
P. 2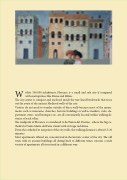 W ithits 500,000 inhabitants, Florence is a small and safe city if compared with metropolises like Rome and Milan.
The city center is compact and enclosed inside the tree-lined boulevards that trace out the route of the ancient Medieval walls of the city.
Visitors do not need to wander outside of these walls because most of the monu- ments such as museums, churches, historic buildings as well as markets, cafes, de- partment stores and boutiques etc. are all conveniently located within walking di- stance of each other.
The midpoint of Florence is considered to be Piazza del Duomo, where the big ca- thedral of Santa Maria del Fiore stands with its huge red dome.
From the cathedral to any point of the city walls, the walking distance is about 15-20 minutes.
Most apartments offered are concentrated in the historic center of the city. The old town with its ancient buildings all dating back to different times, ensures a wide variety of apartments all structured in a different way.